February 26 - February 27
Our award-winning mixed repertory program features an eclectic mix of ballets that showcase the exciting range of dance as an expressive art form. This season, we'll be featuring exhilarating group dances along with some of the most memorable works created for the Going Solo film series. See live performances of Erika Overturff's Art Deco delight The Bee's Knees… Ray Mercer's eerie and evocative Ghost Light… Ann Reinking and Dylis Croman's staging of Bob Fosse's electrifying Trumpet Solo from 'Sing, Sing, Sing' … and more!
Learn More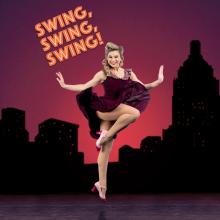 April 02
As a fitting finale, rediscover the spirit of a time like no other – when young G.I. Joes and Rosie the Riveters gave their all to save the world, then threw away their cares to the beat of big bands and the exhilaration of swing dancing. You'll be swept away as a guy, a girl, and their friends flirt, kick up their heels, fall in love, and most of all… Swing, Swing, Swing! Created by celebrated Chicago choreographer and showman Harrison McEldowney, this exuberantly unforgettable work was American Midwest Ballet's very first production. Now, it's back to help us all rediscover the joy of dance… of music… and of swing!
Learn More