VOLUNTEER OPPORTUNITIES
Put Your Love for the Arts to Work
Volunteers are the backbone of any successful team. It's fun. It's rewarding. It's engaging. Be a part of the vital mission of Pottawattamie Arts, Culture & Entertainment through volunteering. If you're interested in pitching in and helping us out, email us at rachel@paceartsiowa.org or call 712.396.2484.
---
Together, we empower artists and community organizations to change the world.
From Chanticleer Community Theater to the American Midwest Ballet, Kanesville Symphony Orchestra to the Kitchen Council, your gifts to PACE empower a rich artistic and cultural environment in Council Bluffs and surrounding communities.
To become a Friend of the Arts, download the form and return it one of the following ways:
1228 South Main Street, Suite 115
Council Bluffs, IA 51503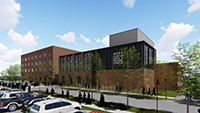 Hoff Family Arts and Culture Center
Opening February 2020, a multi-use, shared facility featuring a 280-seat theater, exhibit and archival space and classrooms.