Volunteer
Put Your Love for the Arts to Work
We're looking for art-loving, dedicated people to help us run the show! We need volunteers for a variety of activities. If you're interested in promoting the arts by pitching in and helping, email us at rachel@paceartsiowa.org or call 712.396.2484.
Become a Friend of the Arts
Your contribution will help ensure a rich artistic and cultural environment for the enjoyment and benefit of Council Bluffs, Omaha and surrounding communities.
To become a Friend of the Arts, download the form and return it one of the following ways:
1228 South Main Street, Suite 115
Council Bluffs, IA 51503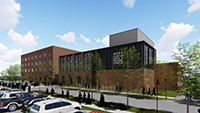 Hoff Family Arts and Culture Center
Coming in fall 2019, a multi-use, shared facility featuring a 245-seat theater, exhibit and archival space and classrooms.