Help the Arts Thrive
As a donor, you will play an essential role in bringing a high level of art, culture and entertainment to our area. Your contribution will support the performing arts, exhibits, classes and other events for the community's enjoyment and enrichment.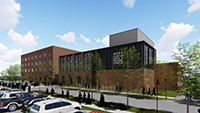 Hoff Family Arts and Culture Center
Coming in fall 2019, a multi-use, shared facility featuring a 245-seat theater, exhibit and archival space and classrooms.